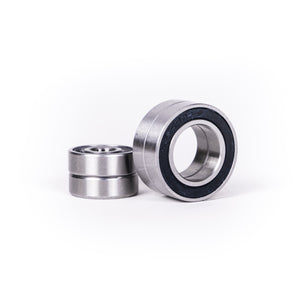 Complete Bearing Service Set
Normal Configuration Includes:
8 pc of 8mm (truck axle diameter) wheel bearings (Fits: Evolve, Boosted, Backfire Ownboard, Liftboard, Raldey, Exway, etc.)

Dimensions: Bearing size 608, which measures 22mm (outer diameter) x 7mm (width) x 8mm (inner diameter/axle)
Compatibility
Fits all Modern Electric Skateboards Boards with 8mm truck
Does not include pulley bearing
Why buy from Momentum Boards?
We provide a 500 mile manufacturing warranty. It breaks. We replace for free!